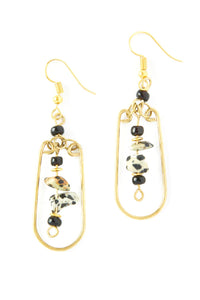 Kenyan artisans create these fun and active earrings from brass wire and glass and tumbled jasper beads. The suspended jasper beads swing freely within their enclosure.
Sold as a set of earrings. Because these are handcrafted items, each will vary slightly.
Dimensions: 0.75"L x 3"H
Crafted from: Brass, beads
Since 1995, Swahili has been partnering with African artisans to showcase how beautifully traditional craft methods adapt to modern life. We strive to develop products sustainably to benefit African communities.