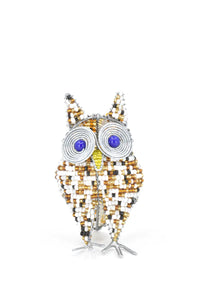 Zimbabwean artisan Patmore and his team of beadwork artisans create collectible folk art sculptures from wire and lustrous glass beads. This small spotted owl makes a charming addition to little nooks and bookshelves.
Sold singly. Because this is a handcrafted item, each will vary slightly.
Dimensions: 2.5"L x 2.5"W x 4"H
Crafted from: Beads, wire
Since 1995, Swahili has been partnering with African artisans to showcase how beautifully traditional craft methods adapt to modern life. We strive to develop products sustainably to benefit African communities.