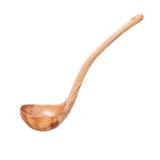 Gorgeous macawood ladles are hand-carved by artisans in Guatemala. These make a wonderful gift. Also has a convenient hanging hole. Each is unique, no two are exactly alike! Handmade in Guatemala and Fair Trade.
Handle measures ~ 8" - 10"
Scoop measures ~ 3" L x 2" W
Due to the handmade nature, exact measurements and colors may vary
UPAVIM Wholesale is a self-run cooperative of women in La Esperanza, Guatemala that provides leadership opportunities, greater economic independence and education for the members and their families.  It represents a colorful beacon of hope and pride for many in La Esperanza.
Founded in 1989, UPAVIM Wholesale creates and sells colorful, handcrafted products for markets around the world. Sales of UPAVIM Wholesale's fair trade goods directly support the cooperative, a full-day kindergarten through 6th grade school, daycare, and a Montessori-based preschool. UPAVIM Wholesale's success in La Esperanza has also fueled the development of a health clinic, tutoring program, local bakery and more.  
Facing poverty, crime and violence throughout their neighborhoods, the more than 60 women that represent UPAVIM Wholesale find not only solidarity in a safe space but also a community of love, hope and purpose that aspires to produce generational improvements for one another.