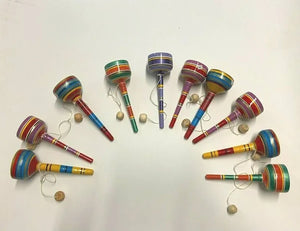 Fun game of catching the balero wooden toy!
Use genuine Mexican items for your south of the border fiesta as subtle and tasteful accents that reinforce your theme.
These original Balero games are hand-painted, unique, and undoubtedly Mexican and make nice party decorations.
This authentic game, imported directly from Mexico, features a cup painted in rich, colorful stripes, attached to a stick with rope.  The objective is to catch the cup on the stick by flicking the arm and/or wrist. Baleros are also a fun way to pass the time after the party.
5" stick

Wood & string
Balero is a version of the Americanized game of "ball & cup", where a player holds a wooden cup and tries to catch a ball which is attached with a string to the cup.