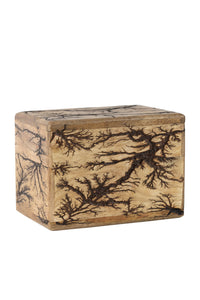 What's inside? That's up to you. Treasures. Ear plugs and eye mask on the bedside table. Collected gems or rocks on a shelf. Jewelry in the cupboard. Or maybe even 3 x 5 recipe cards. Handcrafted by artisans working with Noah's Ark International Exports, where makers learn the skills to start their own independent business. This box is as limitless as your imagination for what it can hold.
Materials: Mango wood
Care: Wipe clean. Damp cloth.
Includes: Five stiff paper dividers.
Measures: 7"L x 5"W x 5"H. It fits 3 x 5 recipe cards. Cards are not included.
Colors: Brown, black
Pair with the

 

Roots Motif Box
Handcrafted in India
Noah's Ark International Exports is a fair trade handicraft marketing organization in Moradabad, India. Noah's Ark provides benefits such as education and medical treatment for artisans and their families. As artisan businesses become more self-sufficient, Noah's Ark takes on new families. Since the company's inception, about 20 artisan workshops have become independent. Noah's Ark started in 1986, in one room of a family house in Moradabad. Businessman Samuel Masih observed that exporters and middlemen were taking advantage of handicraft artisans. He started Noah's Ark to promote these artisans and their crafts.