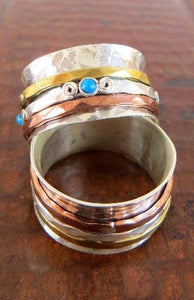 Hammered sterling silver band, 1.5cm thick with three hammered smaller spinner rings made of copper, brass, and sterling.  
size 11

Prabin Tamrakar is a traditional jeweler from the Newari culture.  Many of the jewelers that he works with he has personally trained in the traditional craft via apprenticeships.
Prabin is able to provide a lot of work for these jewelers and they make good money while continuing a traditional skill.  One such example of Prabin's apprenticeship program benefiting the larger community, is Dil Bahadur Chani.  Dil Bahadur is from a very low caste and comes from a very poor village in Nepal.