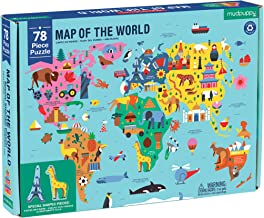 78-PIECE PUZZLE: The 78-piece map of the world puzzle is perfect for children ages 5 -9 to complete on their own or with a little help. The finished puzzle measures 23" x 16.5" and is a great way for kids to start learning world geography!

FUN AND EDUCATIONAL: Kids will love learning the continents and oceans by name, shape and location. The colorful and whimsical illustrations on the map jigsaw puzzle represent what each area of the world is known for.

SPECIAL SHAPED PIECES: The map of the world puzzle includes 17 special puzzle pieces that are shaped like icons of the region, such as the Eiffel Tower, Taj Mahal, kangaroo and giraffe.