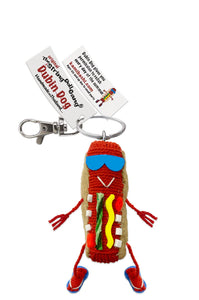 Fresh from Chicago, Dubin Dog gives you permission to relish every day of the summer.  This little weiner comes with all the trimmings - mustard,  relish, tomato, pickle, celery salt, and flip-flops.  Keep cool and keep your sunglasses on, people!
Started in 2017, DUBIN DOGS Mobile Food cart has been helping folks get that 'Summer Feeling' by serving up delicious Chicago Style Hot Dogs to a multitude of satisfied customers. Come see them at the Williams Bay, WI Beach, where you can enjoy a Chi-Dog and take in the beautiful views of Lake Geneva. You'll always get a Taste of Summer at DUBIN DOGS Mobile Food cart!
OUR STRING DOLL ARTISTS are based in small villages in the mountains outside of Chiang Mai in northern Thailand. Crafting String Dolls is the main occupation for most of our artisans, which means a reliable income and improved living standards for their families and communities in their economically developing regions. When they are not making string dolls, many of our workers spend time taking care of their families and tending to their vegetable gardens for self-sufficiency. Some have other jobs such as sewing or working in shops and restaurants.