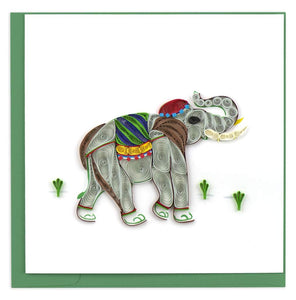 Elephants are symbols of intelligence in the animal kingdom, known for their exellent memories. Send our Quilled Elephant card to share a favorite memory with your friends and loved ones.This design features a playful elephant with a red cap and a green and gold shawl.

Don't just send a card, send art!

Certified Fair Trade Federation Member. Made in Vietnam.

Outside Copy: Blank
Inside Copy: Blank plus additional blank insert to write your own message on
Size: 6 in. x 6 in.