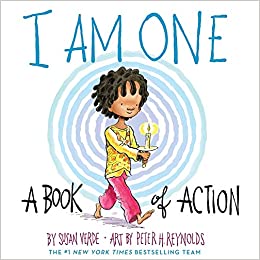 "How do I make a difference? It seems like a tall order for one so small. But beautiful things start with just one." One seed to start a garden, one note to start a melody, one brick to start breaking down walls: Every movement and moment of change starts with purpose, with intention, with one. With me. With you.

On the first page, the main character asks a beautiful bird, "How do I make a difference?" They doubt their ability to make a difference because they are "so small." However, when the bird gives them a seed, they realize that "beautiful things start with just One." They can plant a seed and start a garden! They can also start a journey, paint a masterpiece, compose a melody, and break down walls. All these actions start with "one" thing: a first step, a first stroke of paint, a first musical note, and a first brick.

Here is a powerful call to action for young children, encouraging them to raise their voice, extend a hand, and take that one first step to starting something beautiful and moving toward a better world.