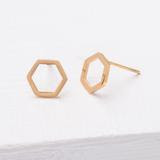 Lightweight and classic, our 14k plated gold Justine hexagon earrings are perfect for every day wear. Whether you are mixing and matching them with our Kayla hoops or another pair of studs, these earrings are so simple and versatile, they will be your everyday staple! What's more, each pair helps us reach out to women in the red light district and build meaningful friendships with them!
Materials: 14k gold plated stainless steel hexagon earrings.
Size: 0.3 inches
Hypoallergenic; lead and cadmium free with nickel content less than 100 ppm.
 We are a Social Enterprise with a Holistic Care Program that cares for women escaping human trafficking and exploitation in Asia. At Starfish Project women and girls  experience freedom, establish independence and develop careers. We have employed and trained over 150 women and served thousands more through our community outreach.