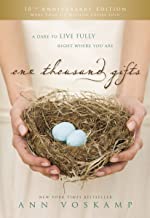 How can you find joy in the midst of deadlines, debt, drama, and even the death of loved ones? What does the Christ-life really look like when your days are gritty, long, and sometimes even dark? How is God even here?
"It is in the dark that God is passing by . . . our lives shake not because God has abandoned but the exact opposite. God is passing by. God is in the tremors. Dark is the holiest ground, the glory passing by. In the blackest, God is closest, at work, forging His perfect and right will. Though it is black and we can't see and our world seems to be free-falling and we feel utterly alone, Christ is most present to us..."
In One Thousand Gifts, Ann Voskamp invites you to discover a way of seeing that opens your eyes to ordinary amazing grace, a way of living that is fully alive, and a way of becoming present to God that brings deep and lasting joy. It's only in the expression of gratitude for the life we already have, we discover the life we've always wanted . . . a life we can take, give thanks for, and break for others. Come to feel and know the impossible right down in your bones: you are wildly loved by God.
A new introduction and ribbon marker enhances this beautiful tenth anniversary edition. As Ann invites you into her own beautiful, heart-aching moments of amazing grace, she gently teaches you how to:
Biblically lament loss and turn pain into poetry

Intentionally embrace a lifestyle of radical gratitude

Slow down and catch God in the moment