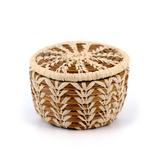 Miniature Pine Needle Basket with Lid features an intricate raffia design and is the perfect container to hold a small and special gift or to keep on your night table for your rings or earrings. Hand made and fair trade, it will bring the beauty and fragrance of pine trees into your home. Handcrafted in Guatemala.

Approximately 2 1/2" wide, 2" tall
Pine needles and raffia
While each Mayan Hands group has its own story and personality, there are some things that they all share. They live in rural areas, in adobe houses, have outhouses, running water in the pila (outdoor concrete sink used for everything), and electricity. In many ways that means they are in better shape than the poorest of the poor here. But they are no longer in that category because of their work with Mayan Hands.