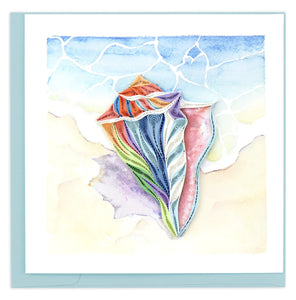 Share a quilled rainbow conch shell greeting card with a beach-lover! Known for being a symbol of good fortune, this is the perfect card to wish anyone good luck. The tactile conch shell is set over a watercolor printed shoreline. The shell contains vibrant colors of blue, green, orange and pink.
Outside Copy: Blank
Inside Copy: Blank plus additional blank insert to write your own message on
Size: 6 in. x 6 in.
Envelope Color: Light Blue

*Extra postage required for mailing
Quilling Card, rooted in Vietnam, has been incredibly fortunate to assemble a team of women who have become passionate about the art of quilling. In 2015, we were honored to become Fair Trade Certified with the Fair Trade Federation. The organization focuses on maintaining a code of values for just treatment of employees. They encourage growth and sustainable business all over the world. Saying a product is 'handmade', especially overseas, can often carry a negative connotation if there is no transparency about the working conditions and treatment of employees. Allying with the FTF, we are proud to have established successful, flourishing business practices.