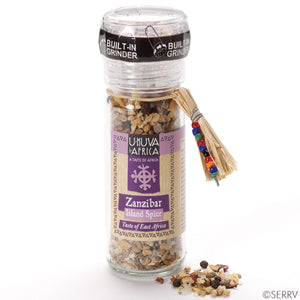 A mixed spice with sea salt, sesame, fennel and coriander seeds and more. Try with meats, couscous, or potatoes. 2.1 oz. (60g)

Ingredients:
Sea salt, sesame seeds, fennel seeds, coriander seeds, black peppercorns, aniseed, cassia (a variety of cinnamon), ginger, clove, garlic, onion, star aniseed pieces.
Turqle Trading in South Africacreates jobs in a country with astounding rates of unemployment. Fully 60% of black women and half of the nation's youth are unable to find jobs. Your purchase ensures steady employment, education for children, and a legacy of worth for future generations.